Saint-Gobain
Saint-Gobain: An e-commerce platform for more comprehensive service for Saint-Gobain's customers
Saint-Gobain needed an e-commerce platform to provide their customers with an alternative way to order products in addition to calling their customer service directly. The purpose was to serve the existing customer more comprehensively and to alleviate the work of customer service. Product orders were mainly placed over the phone which consumed a majority of the customer servants time and therefore the entire e-commerce solution was designed to free up their time, and also make the ordering process easier for the customer.
An e-commerce platform
For more comprehensive service for Saint-Gobain's customers
Complex integrations from different systems into one platform ensure smooth and easy product ordering
The e-commerce platform was first piloted for the Finnish and Estonian markets, after which expansion to other countries could begin. The intention was to take advantage of the e-commerce platform across Europe, with small country-specific changes.
Complex integrations behind the smooth e-commerce
At the beginning of the project, service design methods offered a new perspective for the end customer service experience. Saint-Gobain got several further development ideas on how they could streamline the work of customer servants and provide a better service experience for the end user. Exove's design team created the visual layout of the e-commerce platform, thus ensuring that the brand and Saint-Gobain's needs were all taken into account.
The e-commerce platform itself was built on top of the Drupal 8 content management system as well as the Drupal Commerce system. The integrations played a major role in the project, as data for Drupal had to be retrieved from three different in-house systems:
Resource planning software SAP
Product information management system PIM
Audiovisual file management system DAM
Thanks to the integrations, all systems were able to communicate successfully with Drupal, which ensured that all production management information was up to date, products had the correct product information and images associated with them.
Enable customers to choose the preferred method of service
Using Drupal as an e-commerce platform ensured easier content management when all the data from different systems were in one place. Customers now have more options to make the product ordering regardless of place or time, and they can track their own order history and easily place new purchases based on previous orders.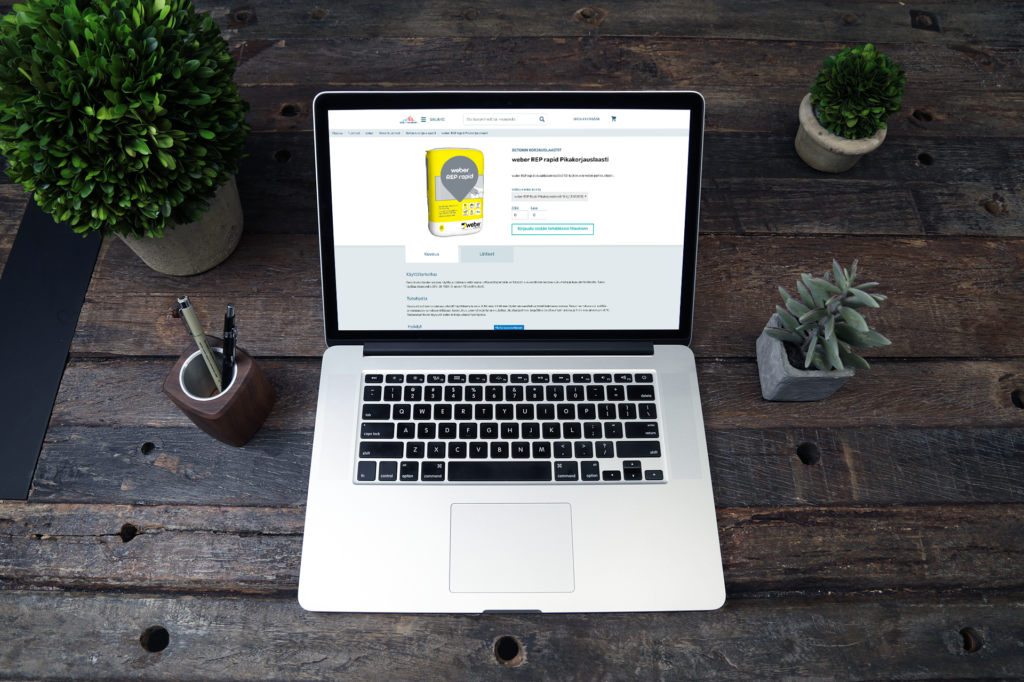 If the customer wants to place a product order by phone, e-commerce platform enables customer service to place an order on behalf of the customer which helps to keep all customer related data in one place. Even though the e-commerce platform was eventually published by another operator, the project was a great learning experience with its complex integrations.
Saint-Gobain is a global operator that designs, manufactures and supplies building materials, products and solutions. Saint-Gobain is present in 70 countries around the world and employs more than 170,000 people.
Send us a message and we'll get right back at you.