Nenäpäivä
Nenäpäivä – Raising funds to help the children of the world one laugh at a time
Nenäpäivä-säätiö raises funds to various Finnish charity organizations for development cooperation. The yearly fundraising campaign contains various activities and culminates in the Nenäpäivä event (Red Nose Day), the biggest non-governmental charity event in Finland which reaches close to one million spectators and tens of thousands of website visitors.
Easy ways of donating for a good cause
Nenäpäivä.fi site is intended to provide visitors multiple possibilities to take part in raising funds for a good cause. Nenäpäivä.fi site provides a variety of services and helps different groups to raise funds. It provides a possibility to set up end-user created and managed Nose Day teams, to compete in fundraising and promote their activity. Nenäpäivä.fi site also presents in real time all the funds teams have raised, provides materials for setting up local charity events, supports various donation options and offers a web shop to order Nose Day materials.

Website
Long-term cooperation brings wantedresults
New site and continuous development supports Nenäpäivä's fundraising efforts and makes donating fun and easy.
The target for Nose Day 2013 was to reach a new record in fundraising. Renewing the web site was one critical point in supporting this goal. In addition the site needed to be ready to support very high peak in traffic during the official Nose Day, evening of the TV-show. Because of the charity background, Nose Day and Nenäpäivä.fi site both had to be implemented cost-efficiently.
In the subsequent years the Nose Day Foundation wanted to renew the site to enhance fundraising, to freshen the look, and to make it responsive to serve all kinds of users from desktop to mobile.

Traffic peak supported with an advanced setup
Exove and Exove Design implemented the new Nenäpäivä.fi site in close collaboration with Nose Day team and their subcontractors. Nenäpäivä.fi site now provides various services to Nose Day campaign, including promoting donations by displaying applicable collection status, donations handling via web payment services, self managed team pages, team donations handling, Nose Day web shop (for Nose Day campaign materials), free material download library and password secured pages.
Exove Design designed the wireframes and layout for the service, and Exove implemented the service front- and back-end on Drupal 7, an open-source content management system.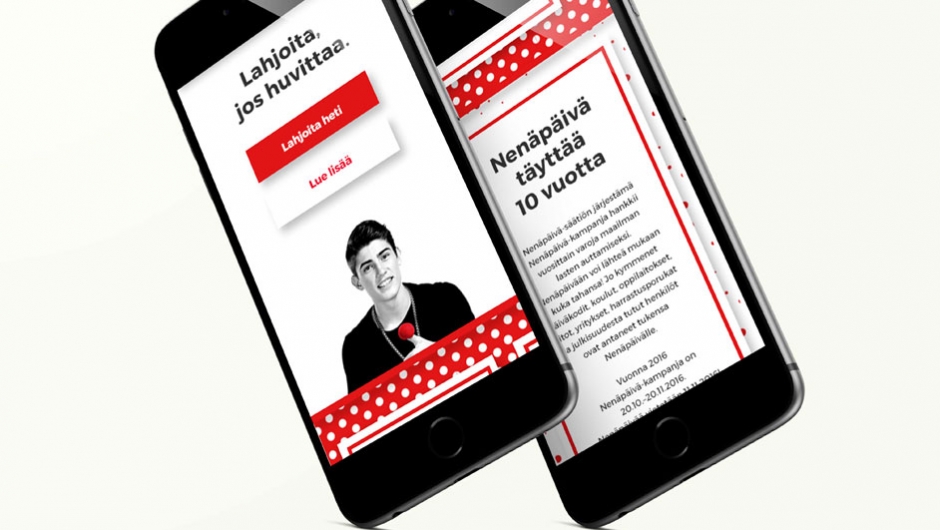 The implementation includes integrations to Securecast SMS-service, Suomen verkkomaksut payment system, SoMe-integrations, Huuto.net auction service capabilities and information exports to finance system. To cope with the official Nose Day traffic peak the site was built to support alternating setup for both short time arranged environment for large user peaks, and cost efficient smaller setup for other periods.

More visibility for social media and donations to make using the site fun and easy
The site helped Nose Day to reach a new record in fundraising: 3,16 million Euros in the year 2013. In 2013 the site had over 46 000 daily visitors (Google Analytics) during the official Nose Day, with full set of services being offered with fast response time throughout the day.The official Nose Day/Nose Day show was heavily advertised on the TV and radio channels. Nose Day web site and its social media channels were the most important communication channels throughout the campaign.
In 2015 the site was scaled for mobile use and in 2016 it was transformed to be fully responsive to serve a wide range of mobile users. The look of the site was also updated to match Nose Day's new brand and masonry was introduced in the site layouts.
Tiina-Rakel Liekki, Marketing and communications manager at Nenäpäivä, is happy with the work done on the site in 2017:
"The Nenäpäivä website is a relevant part of the campaign. There you can donate in multiple ways, you can get ideas on how to participate in the campaign and find information about the work Nenäpäivä does. The website is also a home nest, where anyone can start their own Nenäpäivä-team, i.e. their own fundraising, and where anyone can download information about recipes and pictures in social media, as well as get material to support their own participation."
"It is important that the site is easily accessible anytime and anyplace. That is why an improved mobile optimization brings a whole lot for the campaign."
"In the updates and development work for this year we concentrated on making donations and participation in Nenäpäivä a central part of the site, and enabling easy communication of the work that Nenäpäivä does. A more clear structure to the menu enables users to easily find what's relevant for them."
"This year we also brought a social media wall to the front-page, which is provided by Flockler. The social media wall makes it even easier to update the page than before, and provides a seamless way for us to show what is going on with Nenäpäivä."
"
Exove is a vital partner for Nenäpäivä because they are ready to work hard for a good cause, which enables an easy and fun way for Finns to participate in Nenäpäivä.
Tiina-Rakel Liekki, Marketing and communications manager, Nenäpäivä
The Nose Day Foundation has been very happy with the site that supports their fundraising efforts. The well-established cooperation is ongoing and we continue to develop the site together with the client.