What makes Exove a Great Place To Work
Exove was nominated as one of the best places to work in Finland 2019. Great Place to Work® is a highly valued award that we received for the fourth time, and we couldn't be any happier and prouder about this recognition. So, what makes Exove such an awesome place to work?
Established by our CEO Janne, Exove has grown and become stronger and stronger in its 13 years in digitizing business. Despite the growth to a mid-size company with 90 employees, the family-kind-of atmosphere has hold it's ground up to this day. At Exove, people are cherished, respected and trusted.
Not like an ordinary tech company
For a modern digital service and software company it is unlikely to talk about leadership and management. However, at Exove we do, because we care about each other.
Managers, that we call competence managers, are caretakers whose role is to ensure the employees are doing good. They are interested in you and your career development, but won't' get involved in your day-to-day activities. They are simply there for you.
This kind of management system is purely based on caring. We are a company were no one is left alone and there's always a group of people supporting you.
The right balance between work and personal life
Everybody knows how important it is to have the right kind of balance between your work and personal life. We know it too, and as a company we do our best to make it as easy as possible.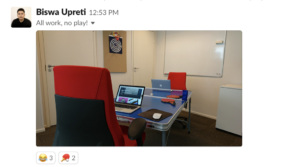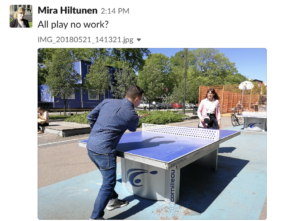 Since we are hard workers, from time to time people need to be encouraged to leave the office and go home. However, if you want to work late nights sometimes, it's fine – as long as you're cool with it and you'll take that time off some other day.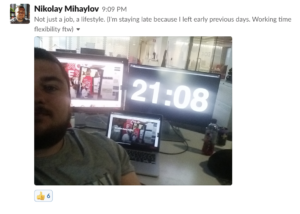 A truly friendly place to work
People are super nice, thoughtful and friendly here! That's usually the first thing new employees notice about Exove.
Spontaneous thank-yous, quick rewards, Christmas rewards and lovely Slack messages. That's what it is all about. At Exove we celebrate, rejoice and sometimes even cry together. If there was an award for the Nicest Place To Work, we would definitely deserve it.

Last year we renewed our brand and created a new promise to match our spirit and attitude towards each other and clients. This promise guides our everyday life at Exove. The promise is your true best friend.

It's time to celebrate!
Not only are we one of the best places to work in Finland, we've also done an excellent job with our company and improved our ranking from 22nd to 15th – seven positions higher than last year! Having the will to develop our practices continuously and taking care of each other is once again paying off.
Dear friends at Exove, thank you for being your awesome selves and making every minute at work so enjoyable. Now it's time to celebrate!

Would like to be one of us? Check out our Careers page for open positions.