Suomen Asuntomessut
Suomen Asuntomessut
Suomen Asuntomessut, the Housing Fair Finland Co-op, exists to improve the quality of housing and living conditions in Finland, in active co-operation with a large network of partners. The Co-op provides information about housing issues and promotes industry standards and skills, as well as organizes the annual Housing Fair and Holiday Home Fair in Finland.
Client objective
Six years ago Suomen Asuntomessut, the Co-op organizing the yearly housing fairs in Finland, wanted a one-stop shop partner who could provide them with both the design and technical implementation services for all their digital channels. They already had a Drupal-based website, but it needed both a technical overhaul and an updated look and feel. They also wanted a partner who had the skills to actively take part in the process of taking their ideas to implementation.

Long term partnership
Design & technical skillset
Design and technical implementation from same partner was a must for Suomen Asuntomessut. In addition both the client and us were enjoying the cooperation projects resulting in benefits for end users as well.
Solution
While we had already successfully worked together before, in the beginning of 2012 we took full responsibility on designing and implementing the Asuntomessut websites. Because there was lots to do before the hard deadline of summer's fairs, we decided to proceed in two week sprints: together with the client, the design team would crunch out designs for the next two week's implementation sprint. We put extra effort on communication and met with the client every week, which proved to be essential on succeeding and keeping everyone in the loop. During the course of spring, we first updated the general design of the site, and then used the created assets and elements to renew the rest of the features one by one.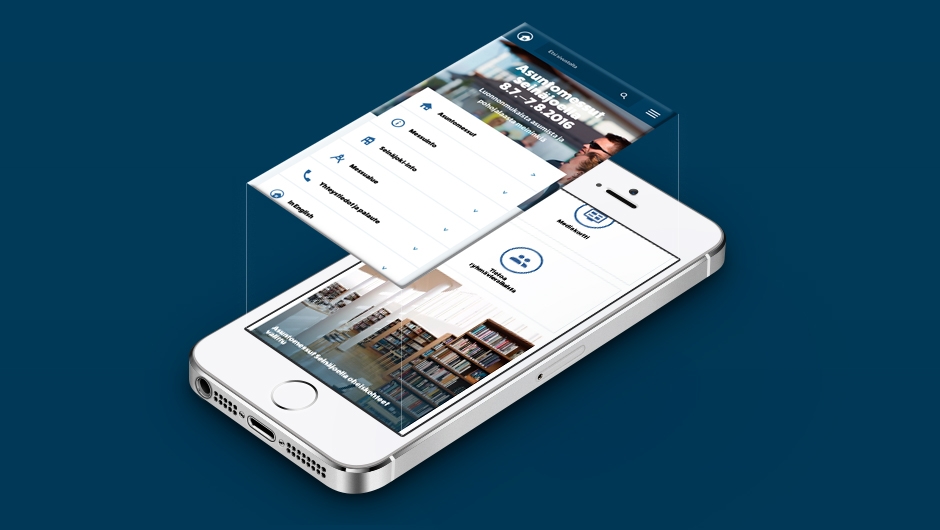 In 2016 after years of service, the original Drupal 6 based technical platform finally became rather outdated. Based on the needs of the client and the strong blogger precence on the site, we decided to move to a WordPress-based multisite solution, which would give us the best tools for content production and developing the site further.

Results
The project has been a great success so far, and most importantly an enjoiyable process for both the client and us. We have iterated on the concept and the design of the site multiple times over the years, and did a more complete overhaul during the beginning of 2016.