Kuntatyönantajat
Kuntatyönantajat – Upgraded level of customer service
Local Government Employers (KT) is a municipal employers' organisation that promotes the interests of Finnish local and joint municipal authorities. KT negotiates and concludes collective agreements and supports municipalities in their employer role.
Upgrading the level of customer service via a renewed website
To succeed in today's digital world, web service needs to be search engine optimized, responsive and easy to use for both the editors and end users. KT saw the need to improve the digital experience, so an overhaul of the web service was in order.
The number one goal was to make sure that KT's main products, the collective agreements, were both easy to find and easy to read. On top of this, all digital publishing needed to be brought to the same level of quality that KT's service stands for.
With Exove's vast experience in UX and service design, alongside the seamless cooperation of our design and technical teams, we set out to achieve this together with KT.
Kuntatyönantaja-magazine is an important source of information for KT's members. On the web, KT wanted to improve the look and feel of the digital magazine, give it a greater informational role it on the web, and to further analyze and utilise its content to better serve the readership.
Website renewal
Upgrading the customer service
The site renewal improved the customer experience, made the site rank high in Search Engines and responded extremely fast resulting in better service for the stakeholders.
Good results were achieved by precise planning, an easy going team of professionals, and constant communication
User research revealed that end users had trouble finding relevant information on the site. Thus, a restructuring of scattered information was needed, so that end users could find what they were looking for with ease.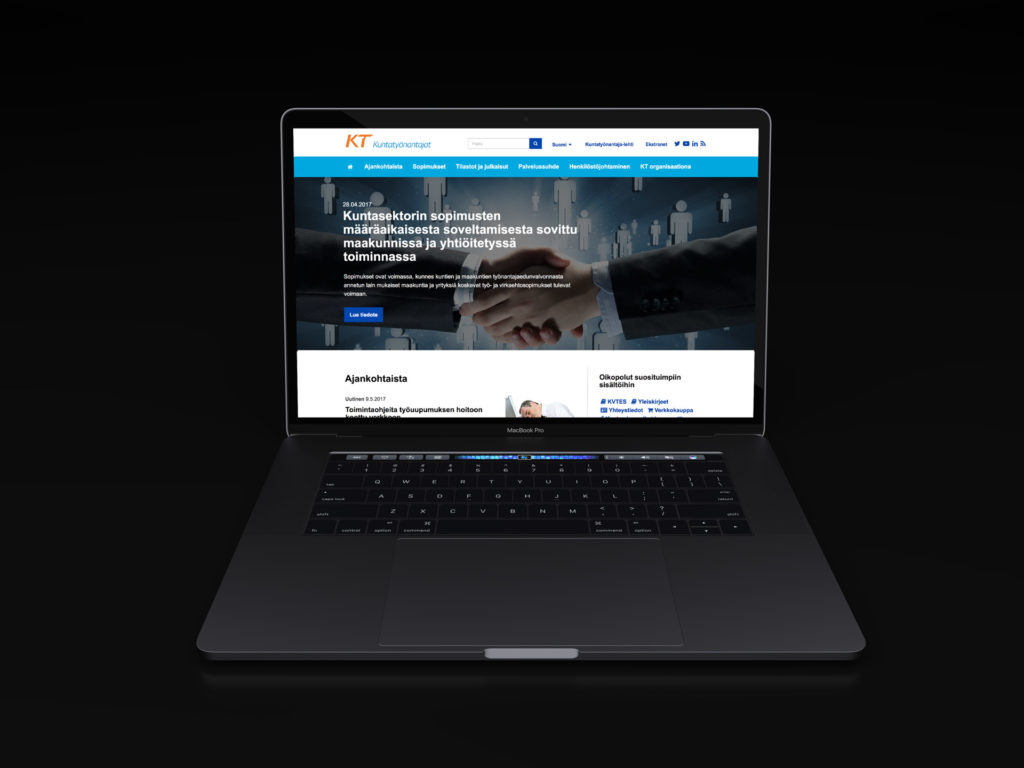 The project started by building a prototype and wireframes based on main user groups discovered in the background research conducted along the service design process. With the understanding and findings gained about the user roles, Exove was able to develop the site towards a smooth user experience. At the same time, responsiveness and search engine optimization were detailed to top quality.

Proper project planning, structured functionalities and requirements and regular sprint meetings were the essential tools for maintaining project scope. The development process was exceptionally agile throughout the project, as the KT team and the Exove development team were in constant dialogue with each other. This made the acceptance process fast, and ensured that the project proceeded on schedule and on budget.
"
It is amazing how smoothly we got two relatively big sites, kt.fi and kuntatyonantajalehti.fi, up and running on time and in scope. Exove's team provided many practical solutions to our challenges during the project, and the whole team was very committed to our targets. Now our collective agreements are displayed a manner that they deserve, and the service as a whole provides the right info in the right context. On top of that, the site also looks good!"
Marjaana Mattila, project owner at Kuntatyönantajat