Jatkoaika
Exciting and timely news for hockey fans with Jatkoaika
Jatkoaika.com has been the leading hockey site in Finland since its launch in 2001. Early 2012 Jatkoaika decided it's time to renew the site, to serve the new needs of their users and partners. After collecting new requirements for several years, Jatkoaika staff decided to move forward with the site renewal by changing into a CMS and introducing a new look. That's when we hopped on board.
Mobile app & site renewal
Popular hockey site focuses on performance
SEO and performance requirements are an important factor for Jatkoaika to ensure user friendliness and potential growth of the user base.
Finland's most popular hockey site has happy users
In the selection of the new platform we focused on performance, SEO friendliness, admin features and cost-effectiveness of further development of the site. Analysis resulted in choosing Drupal. Custom modules were used to meet the requirements that existing modules couldn't meet. Jatkoaika.com site structure is based on relations which means a common hierarchy based structure could not be used as in most of other Drupal sites.
The re-launch of jatkoaika.com was a success. The main goals of the project were met and for example the SEO and performance requirements even exceeded. With over 200 000 unique visitors per week the most popular hockey site of Finland is easy to find, fast and reliable.
Continuous development – new features making users even happier
Further development was in the back of our heads already when renewing the site in 2012 and that's what we've been up to since then, offering something new for hockey fans every season. Improvements have been made and new features have been added constantly to serve users and partners better.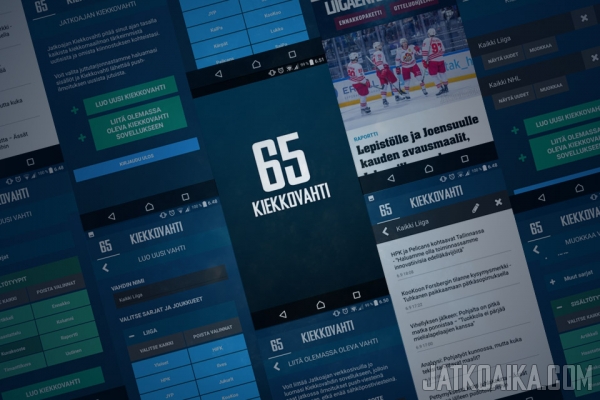 One of the latest new features on the site is the customizable newsletter called Kiekkovahti. After setting up their own newsletter on the site (jatkoaika.com/kiekkovahti) user receives news, articles, columns, reports, image collages etc. about teams and leagues of their interest via email. User can choose what type of content they receive, regarding which teams and leagues, and how often they receive the newsletter.

Our latest treat for hockey fans – easy access to timely content through Kiekkovahti mobile app
Jatkoaika also wanted to make a mobile application for the Kiekkovahti newsletter, provided that the newsletter on the website would be popular enough. And as it turned out, it was – suddenly we had hundreds of subscriptions! Feedback from users indicated clearly that a mobile app would be in demand. So, using React Native we created the Kiekkovahti (News watch) mobile application which is now available in Apple App Store and Google Play Store.
"
A good mobile app is a must today for all serious media. We have high hopes for the Kiekkovahti app, and we believe our readers will download it and love it. Working with Exove to create the application was a smooth process and we launched in time to start the new hockey season.
Matti Liljaniemi, CEO, Jatkoaika
With the Kiekkovahti mobile application users get real-time notifications on new content and now all content and functionality is in one place. Users can transform their existing Kiekkovahti newsletter into a mobile application newsletter and just like on the website, they can easily create additional newsletters in the mobile app too. If the user creates different kinds of accounts with different combinations of teams, leagues and content types, all this content is easily accessible in one application. Now reading the content and modifying your order(s) happens in one and the same place. In addition, now the app contains all past content in a more easily accessible way than emails.