DrupalCamp Helsinki 2023
General about DrupalCamp
Drupal is an open-source web content management system we use a ton in Exove. The community thrives and develops itself by organizing events such as bi-annual DrupalCon and DrupalCamps. DrupalCamp is a small, often local event. They are organized throughout the year worldwide. The main objective of DrupalCamp Finland is to promote the use of Drupal and to be a meeting point for the Finnish Drupal community.
DrupalCamp Helsinki 2023 took place on a sunny but windy April Friday in the HTC building, Helsinki. Drupal users, students and people interested in Drupal gathered to learn and meet each other. We got to meet both old and new friends. The nice auditorium fit everyone comfortably and the sponsors had set up stands outside in the lobby with various goodies. Needless to say, we partook in the swag and games and won, for example, a lot of caps from Druid's dart competition.
For a few of us, this was their first ever DrupalCamp. While the beginning was very _Finnish_ in that people were maybe a bit reserved and quiet, as the day went on the spirits got higher and friendlier. The atmosphere was exceedingly welcoming and inspiring and really succeeded in making us want to contribute more and get even more acquainted with the community.
What did we get to hear about during the event?
Drupal 10: What's New and What's Next by Lauri Eskola
Exciting stuff we're all looking forward to in Drupal 10! Lauri introduced really interesting new features, some of which we haven't even realized we needed but now it feels weird that how we have been even living without these features. For example, sitebuilding with Drupal will be easier with the newest releases as there will be possibilities to add a grid to the site, decide on the allowed text formats on different content types and have more permission options for the blocks.
Accessibility in Drupal – an overview by Simo Hellsten
Couple of us Exove attendees are accessibility enthusiasts, so this session was really expected. Simo Hellsten demonstrated how to use Drupal's main features with a screen reader and explained how accessibility matters are handled in the Drupal community. We felt both inspired and happy to see the community care about accessibility!
Interested in learning how to reach a wider audience on your website? Download the recording of our accessibility webinar, where we talk about how to make your website accessible to everyone! (The recording of the webinar is in Finnish)
Protected Content with OpenPGPjs and Drupal 10 by Rodrigo Panchiniak Fernandes
The session offered pretty interesting food for thought considering the fake news atmosphere of current times. Protected content would allow identifying signatures to be used when authoring content (no take backsies!) but also could protect sensitive client data from reaching the admins' eyes via private keys and zero-knowledge proof protocol. We were left wondering about the hassle of recovering client data and debugging related to something like this, but clearly the intentions are valuable!
How to grow new Drupalists by Pontus Talvikarhu, Akseli Miettinen
Really interesting introduction of Drupal learning path and the ways to get new Drupalists to join the community. The follow-up discussion was very lively as well. Many companies have their own program to train new Drupalists and in Exove we have had our trainee program already for 11 years. The new trainees are joining us in a couple of weeks and they are really expected and warmly welcomed.
ICT Greenhouse Gas Emissions Are Exploding – How Drupal Community Should Engage and Contribute Their Part by Janne Kalliola
While we may be a bit biased on this, this session gave us goosebumps. The gravitas and clarity the subject was delivered with was great. We at Exove take big steps to be conscientious about the environment, and researching and implementing green coding ideas are important milestones towards a more sustainable future for all of us.
Get your copy of Janne's book about green coding
Psychological Safety – key to an effective and happy team by Akira Ahola and Eeva Ojanen
Our friends from Wunder talked about this very important topic. What psychological safety is and how it can be achieved in steps.We were happy to notice that while the terminology was new for some of us, we at Exove employ similar ideas and support for our employees. There were of course a few great new ideas that we'll look into introducing at Exove as well!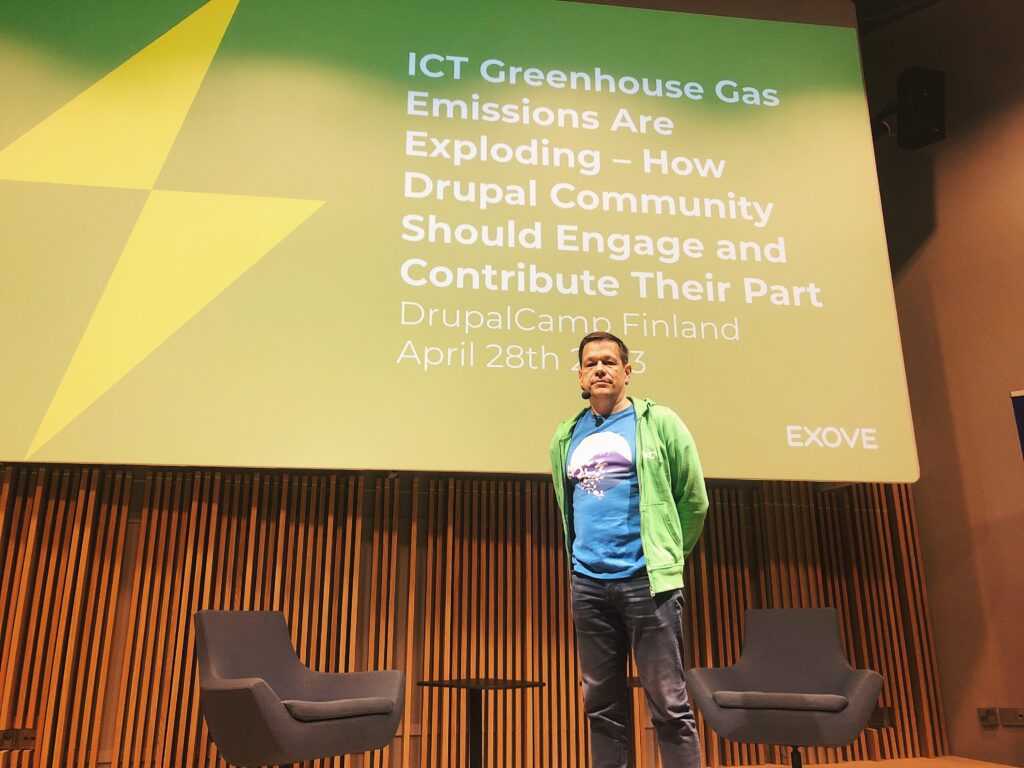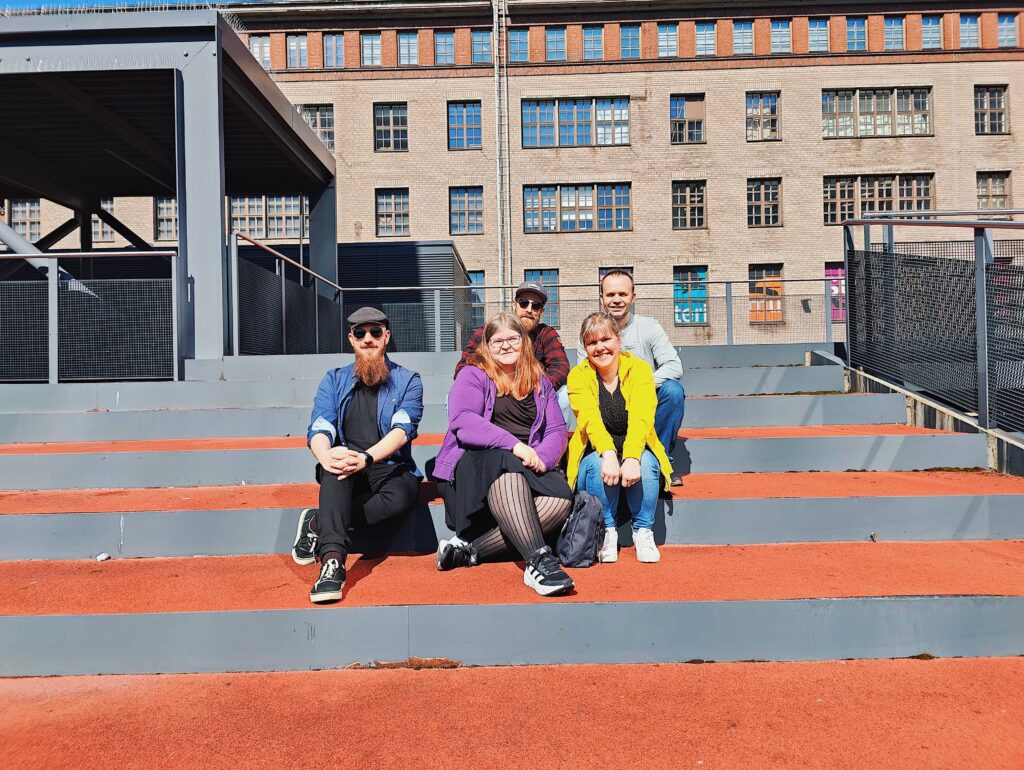 The afterparty was a great way to end the day
The mood was high and the promised pizzas were probably a big factor for us to attend the after party. We got to the sauna premises and started chatting. It was great meeting new people and even some old friends at the event. Refreshments were offered and huge pizzas ingested as the evening went on. The view from the penthouse sauna was nice as well, and offered a more chill (in both meanings of the word) environment if the hustle inside was too much (yay psychological safety and inclusivity).
Next year can't come soon enough
The beauty of open-source software is that it is run by the people who actually use the systems they contribute to. While most of us spend the majority of our days behind a monitor, events such as this allows us to meet the people behind the lines of code and behind the avatars. And despite most of the attendees working for industry competitors, Drupal Camp is an occasion to set aside our differences and come together to work towards a common goal. A goal that makes all our businesses thrive. We're already looking forward to the next one!
Pssst. Want to hear more about what the Exovians are up to? Subscribe to our newsletter!