Omnia
Omnia – Information findability was improved with a Drupal solution
Omnia is a multisector vocational education provider and regional development center, that operates in the Espoo region. Omnia offers upper secondary vocational education and training, apprenticeship training, general upper secondary education, workshops and liberal adult education courses.
Omnia offers flexible opportunities to combine studies and hobbies in a meaningful way and provides competence development services and partnership for companies and working life.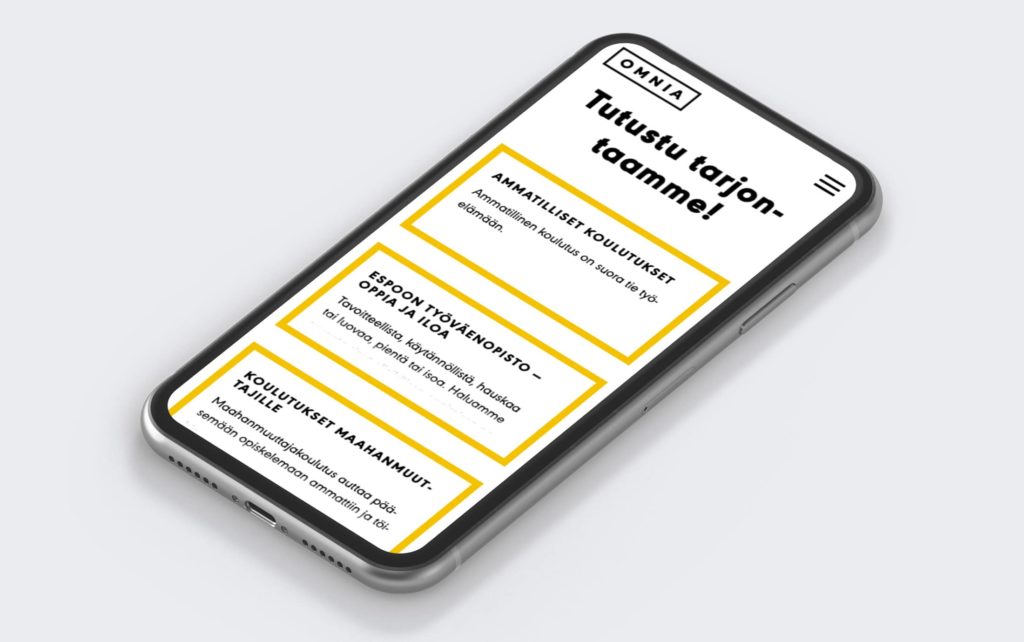 Omnia has over 8000 students studying for a vocational qualification, over 2000 general upper secondary students, approx. 200 young people in youth workshops, approx. 120 students in basic education and approx. 1800 attending professional development and further vocational training. Omnia also has over 22 000 students attending liberal adult education in approx. 3000 different courses.
Widening services and organisation and increasing number of students starting point for web renewal
Educational services provided by Omnia have been widening rapidly, since in 2015 Omnia was joined by Espoo adult high school and Espoo Liberal adult education (Espoon työväenopisto). Early 2015 a project was started to renew Omnia's web communication, in order to respond to widening services and organization and increased number of students.
The conceptual design project was completed in the end of 2015 and from January 2016 the design and implementation project started with Exove.
Web site renewal
Fresh, clear and an easy-to-use site
Omnia.fi is a modern, mobile friendly site that supports the needs of all interest groups, especially students, Omnia staff and all other partners and interest groups of Omnia.
The objective was to have a modern, mobile friendly site that will support the needs of all interest groups, especially students, adult education students, Omnia staff and all other partners and interest groups of Omnia.
Keeping code customizations in minimum by using well established contrib modules of Drupal
Exove finalized the concept and provided visual design for the service, and implemented the solution using Drupal 7 open source content management system.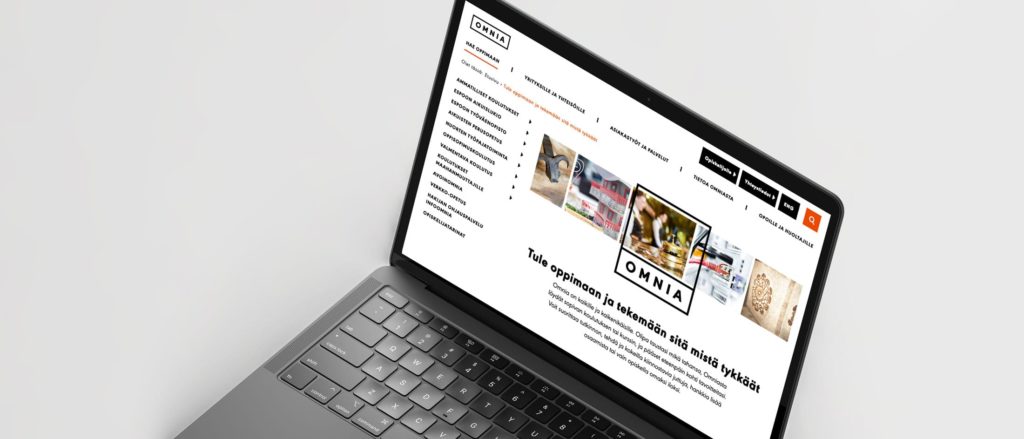 The solution was built with a target to utilize mainly Drupal core and well established contrib modules and keep code customizations in minimum.
One focus area was to be able to easily provide accurate, up-to-date information about different education options and possibilities. The site was integrated to Omnia's back end system to provide automated training course data updates. The need was also to be able to combine back-end courses data with manually managed course data, and an integrated solution was created to allow easy access for content management.
Development was done using lean and agile design and development methodology, in tight co-operation with customer. This allowed the solution to be built efficiently and in suitable time schedule.
Fresh, clear and easy to use
The site was published as scheduled in September 2016 and it received positive feedback, as being a fresh, clear and an easy-to-use site. Ease of mobile use was also a well received improvement.
"
Omnia's new website does not resemble a website of any other college or education provider. It's more like a design house: refreshing and audacious. A unique way of presenting education and services.
Satu Järvinen, Expert, Digital Learning and International Affairs, Espoon seudun koulutuskuntayhtymä Omnia