TRAL
Omaluottamusmies.fi – Appealing visuals for spreading knowledge about employee's rights and responsibilities in working life
TRAL (The Union of Professional Business Graduates in Finland) is a trade union for professionals with a Bachelor of Business Administration or a Master of Business Administration degree. TRAL represents and provides services to its members in matters related to working life and employment relationships. TRAL promotes business administration education and the career development of business graduates. The union has nearly 30 000 members.
Important content, fresh look and flawless responsiveness
TRAL wanted to create a site where they could spread the knowledge about employee's rights and responsibilities in working life, while promoting their services to both their members and non-members. In addition to having important content, TRAL wanted the site to have a fresh look and the flawless responsiveness in handheld devices was an important factor as well.

Web site
Appealing & cost-effective web site
Omaluottamusmies.fi is spreading knowledge about employee's rights and responsibilities in a fun way.
WordPress was selected as a platform for the new site to ensure a cost-effective and easy-to-use solution
In the beginning of the project, multiple workshops were held together with the customer. During these effective workshops, the visual look and main functionalities were decided together with the customer.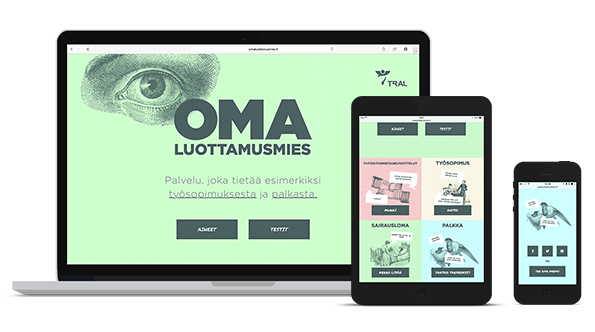 In addition to WordPress' basic features, the development team implemented a meme generator where the end-users are able to create their own memes and share them to social media. An equation calculator and a 3rd party quiz module were also modified to respond the customer's needs.

The result was a visually appealing, but cost-effective web site.
The selection of WordPress proved to be the right solution for the customer, as creating and editing the content is very convenient.