Oikotie
Oikotie Kotikulmat service helps families to find most suitable living areas using soft values
Oikotie Asunnot is a part of Sanoma Media Finland which is the leading Finnish multi-channel media company. Oikotie Asunnot is the leading real estate portal in Finland.
New service with soft values combined with apartment data
In cooperation with Exove and Adventure Club the goal for Oikotie was to create a user friendly service for families of all shapes and sizes, who are considering moving to Helsinki area. In addition to apartments and houses which are for sale, Oikotie wanted to bring forth softer values which would be of interest for this target group. With the service customers should be able then to search for convenient and nice areas which would suit their family's needs and interests. The target for the MVP was to create a simple and straightforward desktop user interface which would bring true value for the families considering moving to the capital of Finland.
New service
Open data put to use
The Kotikulma service provides information for residents who are considering moving to Helsinki metropolitan area.
The solution combines open data capabilities with unmatched customer experience.
Simple metrics used for providing living area recommendations
We created the new 'Kotikulmat' service based on Helsinki city open data. The service was personalized to serve many types of interests and needs. Families can now find and choose interesting areas to move to based on the most relevant services provided for them, such as playgrounds, schools, day-cares, cafeterias and demographic information.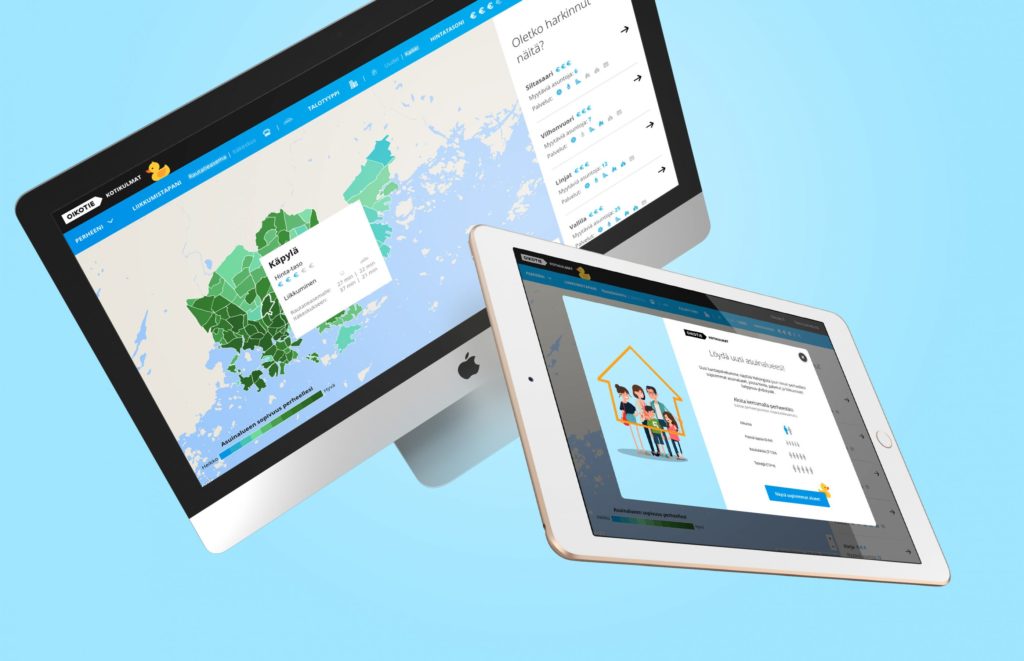 In the project we paid attention to usability of the service. The service is easy to use: it gives area suggestions based on a couple of simple metrics, like family size and price limit. At the first phase the service covers only Helsinki, however, in the future the aim is to expand it to cover other regions in Finland too. The service was done with ReactJS to provide a fast and simple service which would be easily scalable.