Messukeskus
eMessukeskus B2B service channel digitalisation
Messukeskus was founded in 1919 and today, Messukeskus is an international venue for exhibitions, meetings, congresses and other events. They organise yearly over 100 exhibitions and over 1500 other events which reach over a million people. Because of the big amount of visitors and customers it is necessary to develop and improve digital channels all the time.
Digital service channel
eMessukeskus service for B2B customers
eMessukeskus is online service for b2b customers that makes participating exhibitions and managing orders easy for users.
eMessukeskus is full online service for B2B customers
Advanced digitalisation of services – that was the starting point for Messukeskus when they decided to create and update their digital channels. Messukeskus wanted to have a full online service for their B2B customers where it would be easy to participate in events and control orders and other event-related information. It also was apparent that the old system was neither flexible nor had an attractive look and feel.
Integration to Messukeskus CRM systems enables obtaining data quickly and accurately
Exove started to dig deeper into the real needs of Messukeskus. Exove Design held many workshops where the current situation was explained and the future objectives were formed. After user personas, target groups and site structure were planned, Exove started to develop the system. Drupal 7 was used as the base and the front end was built by using AngularJS framework. These technologies were chosen because the new service needed to work perfectly on mobile and at the same time be more easily manageable by Messukeskus. The system was also integrated to Messukeskus' CRM-system, which enables eMessukeskus.com to obtain all necessary data quickly and accurately. After creating a specific API, eMessukeskus.com also acts as a data bank for other digital services of Messukeskus.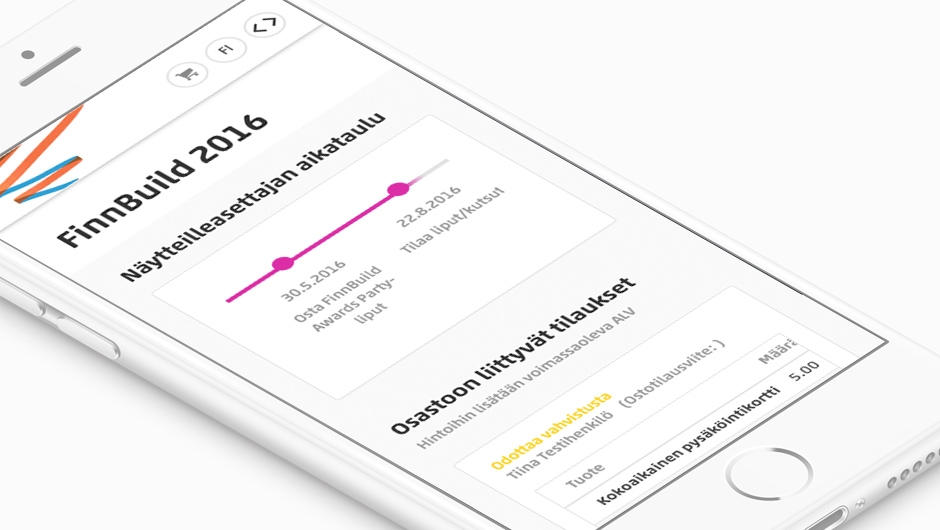 Unique service that makes participating exhibitions easier
eMessukeskus.com is a unique service not only in the Nordic region but in Europe as well. With eMessukeskus.com, users can easily participate in exhibitions and manage orders, press releases and program suggestions – thereby making it possible to manage everything easily with one single service.