Six unresolved needs towards smaller digital carbon footprint in ICT-procurements
Digital carbon footprint is a term for the negative climate effect of information and communication technology. In the bigger picture, what would make it easier and more appealing to consider digital carbon footprint for ICT-service procurers?
In this blog, our Designer Katri presents insights from her Master's thesis. She studied the needs of ICT-procurers regarding digital carbon footprint. As the result from expert interviews' analysis, this blog presents six elements that would help ICT-procurers to take digital carbon footprint into consideration. Among those working with responsibility related topics, the thesis has sparked interest since its publication.
Digital sector has the potential to directly reduce fossil-fuel emissions of other industries for 15 % by 2030
According to Exponential Roadmap's Meeting The 1.5°C Climate Ambition report digital sector has the potential to directly reduce fossil-fuel emissions of other industries for 15 % by 2030. Yet, the carbon footprint of ICT sector has been estimated to be around 3–5 % of global carbon dioxide emissions and around 4–10 % of the world's electrical energy consumption. The reason for ICT industry's carbon footprint is versatile and the big picture is still partly to be defined. For example it is known that data centers are significant users of electric power and that the majority of internet traffic consists of videos (Yle, in Finnish). According to recent Aalto University's research (in Finnish), the biggest resource creating digital carbon footprint of Finnish online services are images.
What needs to happen, so that digital carbon footprint would be easier to include in ICT-procurements?
In the master's thesis, six main needs of ICT procurers regarding digital carbon footprint clusterized from the data. Those needs are strongly linked to each other: steps forward in one section affect and take forward others as well.
Six main needs:
Need for more research information
The top thing that repeated in the material was the need for more research information. More information and a shared understanding is needed of e.g. what the digital carbon footprint is and is not, and how the digital carbon footprint can be most effectively influenced in particular contexts in different ways. E.g. a definition or classification for digital carbon footprint was wanted—preferably by an objective, independent body. 
The implementation of research information was also hoped for. Chewing up the most recent studies into bite sized relevant information packages for ICT contractors would make digital carbon footprint more approachable and make it easier for them to stay up to date.
Psst! The need for more research data was also strongly evident in e.g. Climate and Environmental Strategy for the ICT Sector. Many actors have taken steps in the field of defining the environmental effects of digitization and developing the knowledge base, e.g. Tieke's Green ICT, LUT University and Sitra.
Need for metrics and criteria for the digital carbon footprint
The ICT service procurers would benefit from the fact that there would be a commonly used digital carbon footprint measurement system and a set of standards for defining the carbon footprint for tendering. This way, it would be possible to express the digital carbon footprint requirements in a compact and precise format. The procurers presumed then also get more easily comparable offers regarding the digital carbon footprint.
Psst! This challenge is currently being tackled e.g. MitViDi project (in Finnish). Interested to hear more from them.
Need for pilot projects and cases
The third thing that ICT service procurers would benefit from, is information about various pilot projects considering digital carbon footprint. The observations and lessons learned from them are not necessarily research data that can be generalized, but they help to gather practical information about the ways that have been tested considering the digital carbon footprint. This way, not only the people of the pilot project would learn from it, but also a wider audience.
Both numerical and qualitative data were expected from the pilot projects. This way, one would get rich information about the piloted methods to reduce the digital carbon footprint. Piloted practices could serve as a basis for the following projects and for more detailed research of the topic. With the help of both participating pilots themselves and hearing of pilot cases, ICT procurers could get low-threshold information about what should or should not be done.
Need for shared responsibility of digital carbon footprint
It is more attractive for the ICT procurers to take into account the digital carbon footprint in the procurements if they are sure that the service providers participating in the process also have the motivation and interest in taking the climate into account. 
Commitment would be also needed from within the purchasing organization. This would enable digital carbon footprint to remain a topic of consideration in decisions made throughout content development and service maintenance phases of the ICT service.
Psst! Promoting the minimization of the digital carbon footprint is close to our hearts. If you want to talk more about the topic, send us a message and we'll get back to you!
Need for a cooperation network
Besides channels that share research information, ICT services' procurers would benefit from having peer-to-peer learning and development communities. In community-based meetings, it would be possible to share current silent information, cases and thoughts on relevant subject regarding digital carbon footprint at a low threshold.
In particular, it would be beneficial to utilize the expertise of the procurers by co-developing or improving something in the meetings, for example new operating methods or the next versions of the tools already in use. 
With the help of the peer groups' own activity, consideration of the digital carbon footprint would become more and more attractive and informal information would flow in collegial co-operation.
Need for versatile tools for procurement and monitoring
The sixth need is strongly related to e.g. needs for new research information and metrics and criteria mentioned earlier. For ICT procurers, it would be quite useful to have various tools and methods for acquiring and monitoring the digital carbon footprint available to support the everyday life of the procurement work.
It is possible to respond to this need in many different ways. "Tools" can mean, for example, file templates or online databases. No specific format was excluded in the material. The main thing with these different tools is that they should make it easier and faster to include the digital carbon footprint in procurement processes. The more diverse the toolkit is in use, the easier it is to incorporate the digital carbon footprint into purchases.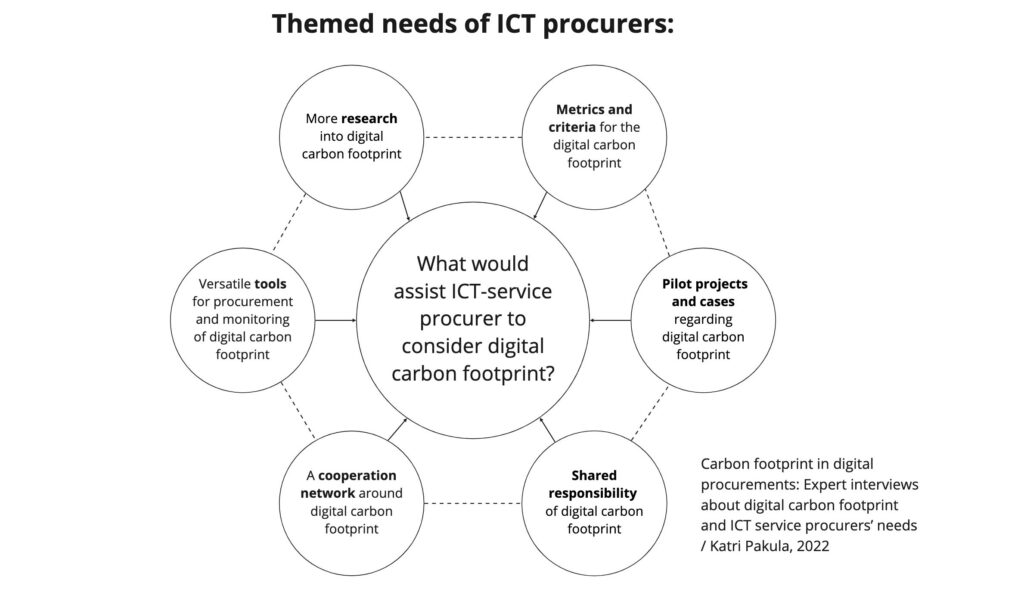 Katri is a Designer, passionate about improving sustainability. "It is important to be part of the solution not only in private life but also at work. Therefore, it has been very motivating to participate in planning Exove's sustainability program."
Katri's Master's thesis studies ICT-service procurers' needs regarding digital carbon footprint. The empirical study utilizes qualitative means of collecting and analyzing data with a customer-oriented service design perspective. The data was collected in fall 2021 and the thesis was published in spring 2022. Read more of Katri's thesis in Theseus.
Psst. Exove is a part of the Green ICT ecosystem of Tieke and our vision is to build a more sustainable digital world. We want to support the development of sustainability and advance it with the resources we have. Contact us if you have a project considering one of the topics above, and let's discuss how we can help!
Thoughts by