Exovians played themselves a sustainability program
During the pandemic events for the entire company have kept everyone waiting. In December, though, we did have a chance to get together, both face to face and remotely. And what a success it was!
When after 1,5 years of waiting there finally is a chance to meet all the Exove friends, what would be more significant and important enough program than creating a common sustainability program?
The program, named Exove Sustainability Compass, has been created an iterated during 2021, but it was missing the essential exovian touch, and we were about to get everyone's input at once. They say shoemaker's children go without shoes. Not this time! We organized a very successful, gamified hybrid workshop for the entire company. We are proud about that already, not to mention the results.
At the office the feeling was growingly excited. Groups were divided, game boards revealed, cards and sticky notes given out. It was time to play. Each group had one of the compass "directions" to dive into but ideas and discussions went across borders. That is not unusual, in the sustainability realm, everything is connected. It was impossible to only think about what we do (Sustainable Web Design and Development) without thinking about how we do it (Code of Conduct and other responsible company governance topics). This was also the first time something like this has been organized, even though sustainability topics have been popping up in Slack every now and then.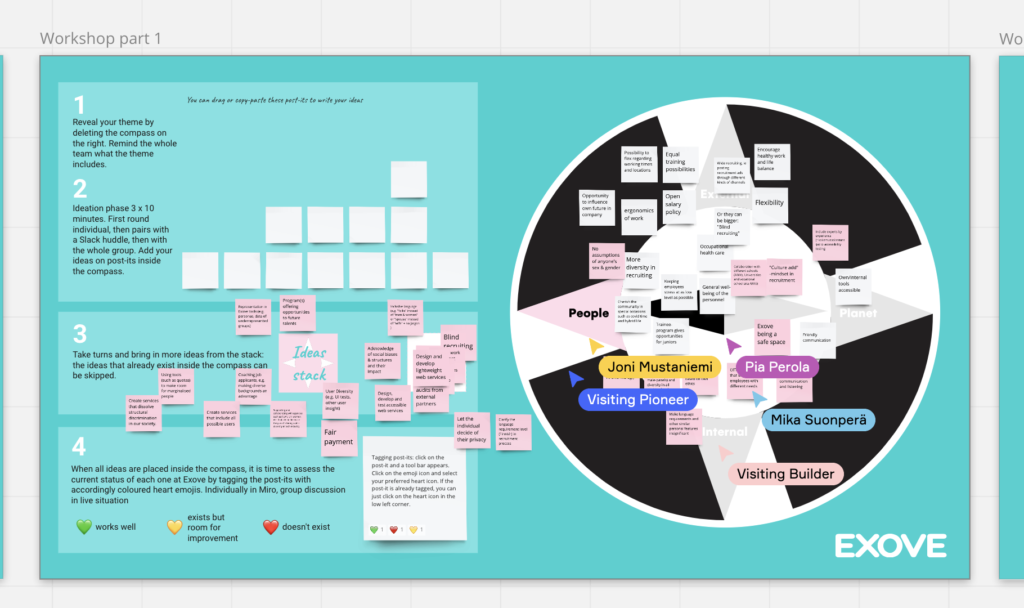 "Can we get anything tangible out of the workshop?"
Remote groups used ever more familiar Google Meet with breakout rooms, Slack's new huddle feature and virtual whiteboard Miro which combined worked as a fluent combination. Initially, remote participants felt the discussion was on a high level, not concrete enough for good results. In the end, however, time ran out before they knew it. That's how we think good workshops should go.
The game was played one stage at a time by first collecting sustainability ideas to combining them with existing ones in the initial version of the Sustainability Compass. Finally discussion led to idea prioritization. As end result we have the most meaningful sustainability topic that exovians think are worth maintaining or improving.
We have now tested the game with 50 something participants. Meaningful and interesting topic, fellow friends, exceptional physical and virtual materials and professional in-house facilitators were the recipe for success. The only reserved comment came in about the topic itself: "Are we going to talk about the same things in five years, or will there be actual changes?". There definitely is a will to develop Exove into a more sustainable company. That makes my life that much easier to find the way to do so!
Thoughts by